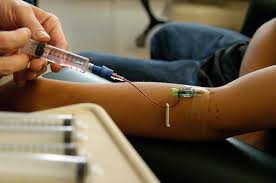 The Mary M. Gooley Hemophilia Center is licensed by the New York State Board of Pharmacy as a registered pharmacy. The Center can provide you with clotting agents (including factor products) and other medications prescribed by your doctor.
The multidisciplinary "Comprehensive Care" model used at Hemophilia Treatment Centers works well for people affected by bleeding disorders. And except in rare clinical situations, when used properly, clotting factor works too.
Together, Comprehensive Care and appropriate use of Factor are complementary components of successful treatment for bleeding disorders. Integrating the two – which is what happens when people take advantage of a Hemophilia Treatment Center (HTC) pharmacy – creates a winning combination for people affected by bleeding disorders.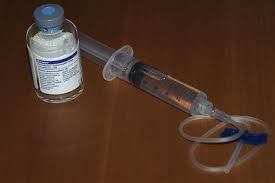 As the Rochester region's only federally recognized comprehensive hemophilia treatment center (HTC), we operate a Public Health Service/340B Pharmacy for eligible patients. Discounts provided to the Center via the federal 340B program allow the Center to dispense clotting factor at prices lower than other pharmacies' prices, saving money for you and your insurer – maybe millions of dollars, depending on how much factor you use. We don't take profit out of the system for owners or shareholders the way for-profit pharmacies do – money we make supports Comprehensive Care. The Center was started in 1959 by people affected by bleeding disorders – and patients comprise most of the Center's Board of Directors today. By choosing the Center's Pharmacy, you are supporting the treatment center that serves you.
Here are some of the many ways in which the Mary M. Gooley Hemophilia Center Pharmacy helps you and the larger bleeding disorders community:
Lower cost: We purchase clotting factor through the Public Health Service (PHS or 340B) discount program for eligible patients. This important benefit, along with our overall pricing structure, reduces the cost to the healthcare system and to your insurance;
The Center manages your care for your bleeding disorder: Regardless of reimbursement challenges that arise, the Center seeks to optimize your health and well-being through coordination between our pharmacy and clinical care. Our pharmacist works here at the Center, as a member of our team – with treatment center staff and medical staff members you know. They don't just communicate using prescriptions and protocols – they are co-workers in the same space, using the same information systems, with the same goals and desire to care for you and your family. This open, seamless structure under one roof with first-hand communication allows us to understand and address your needs (as a person, not just as a patient) effectively and efficiently. We deliver value, personalized for you/your family.
Communication with Patients: Fortunately, our experienced staff members are available whenever you need them, 24 hours a day, 365 days a year. We can obtain any FDA-approved clotting factor product needed to treat your disorder. Furthermore, the Center can provide unbiased information about any plasma-derived or recombinant factor product that exists, including "tried and true" products you may have used and the latest products being advertised – even clotting agents still in research and development;
Supplies and waste disposal: The Center's pharmacy provides infusion supplies and a sharps disposal program for your convenience.
Assistance with Health Insurance: Because factor is expensive, health insurance will present significant challenges. The Center's staff members have experience resolving insurance issues and can help you bridge gaps in coverage;
The Comprehensive Care Model used by Hemophilia Treatment Centers has existed in Rochester since our Center was founded. Hemophilia Centers were among the first entities in the United States to operate using principles of "disease management" – sometimes touted as an "exclusive" value-added practice. We've always done things that way. People who work at the Center simply know more about bleeding disorders – and have more experience – than do other health care providers. The Center optimizes the health and health care of people we serve, while containing cost increases.
The Center's medical staff is led by co-Medical Directors (hematologists) Ronald Sham, MD and Peter Kouides, MD. Clotting factor dispensing – done via the Center pharmacy – is integrated with everything the Center does for people we serve. Along with their many medical colleagues, Dr. Sham's and Dr. Kouides' activities at the Center include research, teaching and outstanding, compassionate patient care, as reflected in the Center's mission, culture and ongoing quality improvement activities. Our team works for you – patients of the Center. Caring is in our blood.
While we believe that integrating pharmacy with treatment offers unparalleled benefits, we strongly support the right of every patient to make choices. Important choices are outlined in the the Center's patient choice policy.